---

How to select the perfect baseball uniform sets
Playing baseball can be very competitive. Players always do their best to make the best swings. They also compete in another field; choosing the most perfect uniform.  A uniform for any baseball player means a lot. Baseball uniforms carry the identity of players. This makes many players feel important, as they are representing a team. Wearing the same uniform makes the whole baseball team members feel equal and responsible at the same time. These feeling are always among all types of players. It doesn't matter if they are armatures or professionals, juniors or adults. Our baseball uniform sets are suitable for all sizes and ages of baseball players.
Baseball uniforms always consist of a jersey, pants, caps, gloves and socks. Usually the jersey has half or short sleeves. The most efficient baseball uniform must be made of breathable and comfortable materials. Comfortable uniforms can lead to best results. Baseball jersey can have full two or full buttons.  The jersey usually has the team name, player's name and number, which makes it easier for fans to recognize them. In order to have more stylish appearances players can use multiple customization options. With custom baseball uniform packages your team can reflect their tastes on their uniforms.
If you are going to join a league or another baseball championship, you need the best uniform. Our baseball uniform store offers a great collection of baseball team uniform packages for all ages and sizes.  One of the best things in our uniform packages is that it has everything you need at once. So instead of spending time on matching a jersey to a pant our baseball uniform sets will make your mission way easier. If you know your exact size and style, you can definitely save your time.  Always keep in mind that comfortable and good looking uniforms will make you play with confidence.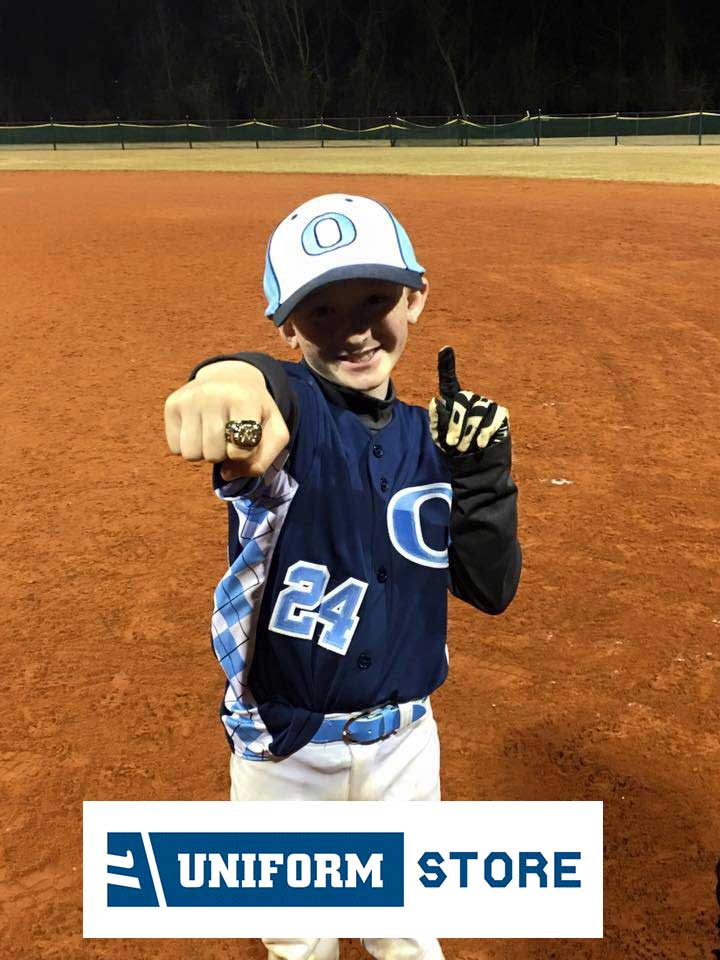 Now if you are excited about your new championship, you must go shopping for your baseball uniform. Our baseball uniforms packages can inspire you and help you select the right uniform. Our collection includes:
MVP JERSEY /CLASSIC PRO BASEBALL PANT
This uniform set is made for players with passion for a classic baseball uniform. The MVP jersey is a wrap knit full button shirt. This classic uniform is made of heavy weight polyester. This high quality material can absorb your sweat and any other form of moisture, so they won't affect you performance.
Power Classic Baseball Uniform Set
This package is perfect for classic baseball uniform It consists of a full button half sleeves jersey and classic pro pants. This uniform is made of heavy weight material. This high quality material will make you feel fresh during hot summer days, as it will absorb any sweat and make it evaporate quickly.
MVP Premier/Classic Pro Pant
This uniform package is a unique combination of a premier jersey and the classic pro pant. It is inspired by the 2015 Little League Worls Series Jersey. The uniform is mainly made of heavy weight polyester. The high quality material is ideal for body flexibility during swings.  This uniform set is available in limitless colors and sizes.   
Attack Vest Classic Pro Uniform Set
This uniform is for players with passion for vests instead of the usual half sleeve baseball jerseys. The attack vest has one button and limitless color collections. From Columbia blue to Texas orange and more you can select your favorite color. This set is made for the professional players to give them the ultimate serious look
Diesel Elite High Baseball Uniform Set
This baseball uniform set is basically made of heavy weight polyester. This material won't make you feel sweaty or uncomfortable at all. This package consists of a two buttons half sleeves jersey and a high knee pant. This uniform set is right for elite players. The available sizes are from youth extra small to adult 10XL.   
Slider Classic Uniform Set
The uniform consists of a unique mix between a one button half sleeve baseball jersey and a classic pro pant. The high quality polyester material will definitely boost your performance. This uniform set is also very durable and will stay with you for a very long time. This slider classic set is also available for customization. So you can turn this classic set into a custom baseball uniform
Swing Classic Uniform Set:
This brand new addition to our collection is more than right for fans of a classic baseball uniform. It consists of a half sleeve two buttons classic jersey and classic pro pants. You can use this uniform to express your ideas for a perfect uniform design with the limitless customization options. Its high quality fabric can handle any styles you might think of.
Ace Jersey/Elite Panel Baseball Pant 
This outstanding uniform is made for top athletes, as it is made of heavy weight polyester, which is a high quality material. This material will make you feel totally comfortable and confident. You can think about adding special effects or styles to the sleeves or shoulders. This uniform set is available in many colors such as Kelly and lime green, baseball grey, maroon and navy blue.
Invader Jersey / Classic Pro Baseball Pant  
This classic baseball uniform consists of a full button invader jersey and the classic pro pant. The jersey has half sleeves. As the name suggests this invader jersey will let you take over the court and stand out from crowds. This uniform set is made of heavy duty polyester, pin dot mesh and woven pin strip. This fabric will guarantee you a maximum breathability and comfort. The available sizes are suitable for young and adult athletes. This sizes start with youth extra small and end with adult 10XL.  
Edge Jersey / Elite High Baseball Pant 
You can just sit back and select this cutting edge uniform set. It consists of a full button edge jersey and an elite pant. This uniform will make your body feel absolutely comfortable without being tight. This comfort can enhance the efficiency of your swings. This uniform is available in limitless designs colors and in full dye sublimation.